La Celestina

XV Festival de Jerez 2011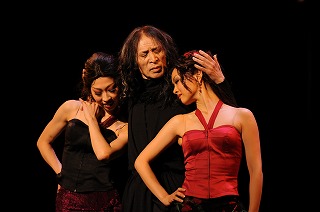 © Yasuo Yamahiro
Our latest work, La Celestina, has received an invitation to the 15th Festival de Jerez 2011, Spain. We are very honored that we could performe for the first time in Spain and particulary in Jerez, one of the cradle of flamenco.
Due to some unavoidable circumstances there will be some changes in the original cast and musicians of the premiere in 2009. Esmeralda Manzanas Sánchez will fill in for Tamara López, Hugo López for Francisco Morgado, Jesús Méndez for Pedro Obregón and Mónica Navarro for Caridad Vega.
[Mar. 6, breaking story] Here is a list of some websites where you can enjoy wonderful pictures of our performance:
[Mar. 5, breaking story] The Internet television Flamenco TV has published a videocip (3' 38'') of the first scene of La Celestina where you can see Calisto fall in love with Melibea at first sight.
[Mar. 3rd, breaking story] canalflamencotv has just released the complete version of La Celestina on its video gallery. See the top page and you will see Videoteca on the right. Choose "COMPAÑÍA SHOJI KOJIMA" to watch the video.
[Mar. 2nd, breaking story] The Festival of Jerez Televisión has just published a video on vimeo. It's a 4-minute, 41 second clip.
canalflamencotv, the Spanish all-flamenco compucasting channel will broadcast a special program on La Celestina at 2:00 p.m., Spanish time (GMT+1). There will be another program tomorrow, 3th at 1:00 a.m. Spanish time.
FlamencoworldTV has released a short video on YouTube as you can see below.
[Mar. 1st, breaking story] We have just received acclaim from the critics of Spanish newspapers and magazines in there latest editions.
"I have to raise my hat and say thank you to Kojima"
- Francisco Sánchez Música (Diario de Jerez)
"A magnificent performance of Kojima"
- Antonio Conde (La Voz Digital)
"Tremendous triumph of Kojima"
- Manuel Martín Martín (El Mundo)
"Kojima has achieved an exceptional work"
- Marta Carrasco (ABC)
"Magnificent lighing, stage design and costumes"
- Silvia Calado (Flamenco-world.com)
"Kojima's interpretation is worth an Oscar"
- Estela Zatania (deflamenco.com)
[Feb. 27th, breaking story] The EFE Agency has released a video on Youtube, as below, where you can see Kojima dancing with all the musicians in a rehearsal studio.
[Feb. 26th, breaking story] At 13:00 we held a press conference at the Bodega de San Ginés, a winery near the Teatro Villamarta. You can see the video on Festival de Jerez Televisión. Javier Latorre, Kojima and Chicuelo attended the conference with Jesús Fernández, a young dancer who would perform at midnight in "Ciclo Los Novśimos".
CALENDAR
Date
Sunday, February 27th, 2011
Time
21:00
Theater
Teatro Villamarta (Jerez de la Frontera, Spain)
Tickets
Butaca: 27 €, Platea (f.1): 24 €, Principal (f.2-6): 27 €, Palcos (f.1): 22 €, Anfiteatro (f.1): 22 €, Anfiteatro (f.2-9): 17 €
(For more information visit Official Web Site of Festival de Jerez)
CAST
Dance
Shoji kojima
Cristian Lozano
Esmeralda Manzanas Sánchez
Hugo López
Pablo Fraile
Ángel Sánchez Fariña

Ballet Shoji Kojima Flamenco:
Chiharu Okano, Kanako Maeda, Ayumi Yanagiya
Harumitsu Seki, Tomoya Matsuda
Satoyo Kamata, Etsuko Kiuchi, Tamaki Kinoshita
Yumiko Kojima, Yoko Saito, Moegi Hata
Ayako Obayashi, Haruna Kubota, Yayoi Seki
Junko Takeuchi, Konomi Tsumori, Junko Sujino
Song
El Londro, Jesús Méndez, Mónica Navarro
Guitar
Chicuelo, Salva de María
Violin
Olvido Lanza
Cello
Lito Iglesias
Percussion
Pedro Manuel Navarro Grimaldi
STAFF
Original Idea
Shoji Kojima
Direction & Choreography
Javier Latorre
Music
Chicuelo
Lyrics & Texts
Pablo Neruda, Javier Latorre, Chicuelo
Stage Design
Chiaki Horikoshi
Costumes
Naoki Yamada (AIM)
Hiroko Tachikawa (Naja House)
Lighting
Masao Oshima
Sound
Masaru Tanaka (S.C.Aliance, Techniland)
Stage Director
Katsutoshi Masuda (Di-Rect)
Masks Design
Yoshiko Shohoji
Hairdressing
Junko Sasaki
Photography
Yasuo Yamahiro
Translation & Assistant
Yuichiro Furuya
Production
Estudio Kojima, Co.,Ltd.