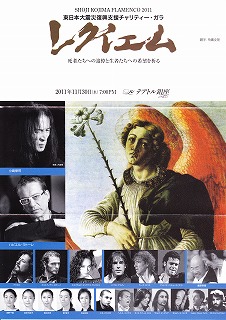 Since the Great East Japan Earthquake was reported, people around the world have shared our pain and given their hearts to us.
The world of flamenco is no exception, and it's been bringing rays of hope to us through various support activities all over Spain.
On June 3rd I went to Spain to appear on stage as an advocate of FLAMENCOS POR JAPON, a charity gala held in Córdoba. The idea had come from Javier Latorre, one of my best friends, and I danced soleá to pray for reconstruction of East Japan along with many representative artists of Spain. That night I was goaded on by a desire to put on a gala in Japan, a gala which would not be seen anywhere else in the world. Thus my dreams has been fulfilled today thanks to Javier Latorre and universally acclaimed artists of flamenco.
In September Javier Latorre came to Japan to choreograph «La Celestina» and at the same time he dedicated to me a choreography for a poem of Poet in New York of F. G. Lorca sung by Enrique Morente, the great cantaor who has passed away recently. Through this charity gala, a one-night stand, we wish to grieve for the victims' souls and give survivers hope and strength to live.
CAST
Dance
Shoji kojima
Cristian Lozano
Esmeralda Manzanas Sánchez
Pablo Fraile
Hugo López
Antonio Ventura "Kiko"
Javier Latorre (guest appearance)

Ballet Shoji Kojima Flamenco:
Chiharu Okano, Kanako Maeda, Ayumi Yanagiya
Harumitsu Seki, Tomoya Matsuda
Satoyo Kamata, Etsuko Kiuchi, Tamaki Kinoshita, Yoko Saito
Junko Sujino, Moegi Hata, Ayako, Obayashi, Haruna Kubota
Junko Takeuchi
Song
El Londro, Jesús Mendez, Mónica Navarro Gómez
Guitar
Chicuelo, Salva de María
Violin
Olvido Lanza
Cello
Jordi Claret Alegre
Percussion
Pedro Manuel Navarro Grimaldi
shōmyō (recitation)
Eizen Fujiwara
STAFF
Direction & choreography
Javier Latorre, Shoji Kojima
Musical direction
Chicuelo
Stage Design
Chiaki Horikoshi
Epigraph
Zenryu Hidaka
Ballet Master
Cristian Lozano
Répétitrices
Chiharu Okano, Kanako Maeda, Ayumi Yanagiya
Costume
Naoki Yamada (AIM), Hiroko Tachikawa (Naja House)
Lighting
Masao Oshima
Sound
Sasoshi Tanaka (sound craft LIVE DESIGN Co.)
Stage Director
Katsutoshi Masuda (Di-Rect)
Mask design
Yoshiko Shohoji
Hair dressing
Junko Sasaki
Advertisement design
Akira Uno
Promotional photography
Yasuo Yamahiro
Translation & Assistant
Kyoko Shikaze
Production
Estudio Kojima, Co., Ltd.
Patronage
Spanish Embassy in Japan
Sociedad Hispánica del Japón
Contemporary Dance Association of Japan
Asosiación Nipona de Flamenco
Instituto Cervantes of Tokyo